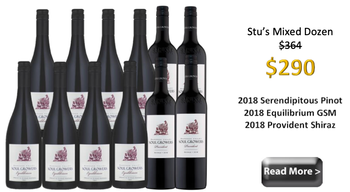 Stu's Mixed Dozen
4 bottles of the following wines -
2018 Equilibrium GSM
The Blending of noble varieties to us has always and will continue to offer great potential for complexity and depth of characters. Like blending and matching food the very essence of finding the ideal varietals and blending the right percentage of each variety based on the vintage year brings a style and consistency. Integration of these individual varietal aspects offers flavour profiles not found by the use of a single variety. The Soul of Blending.
2018 Provident Shiraz
The fore fathers of the region had either a grand vision, or simple luck to plant Shiraz in the Barossa. It's been and continues to be the very essence of our region today and will remain an iconic variety representing some of the oldest vineyards and highest pedigree wines that adorns many of the fine cellars and wine lists of the world. The very Soul of the region.
2018 Serendipituos Pinot Noir
2018 Soul Growers Serendipity Single Vineyard Adelaide Hills Pinot Noir
Soul Growers Serendipity Single Vineyard Adelaide Hills Pinot Noir – a chance discovery , soft, alluring, aromatic, gentle with a touch of earthiness.
The very Soul of discovery – we accidentally stumbled across this little block of Adelaide Hills Pinot Noir, secreted away from the road side and hidden within a gully. A chance meeting with the grower and here we are now – just a handful of barrels were crafted - open fermented, basket pressed and traditionally aged in very old French casks. Designed to be enjoyed now or with a touch more cellaring, this gem will make any gamey dish sing. Serendipity is the chance discovery of something lovely, where before there was nothing. Some accidents were just waiting to happen…