About Us
Our Story
Soul Growers stands for everything that is great about the Barossa: shared wisdom, new ideas, mateship and a passion for making and enjoying great wine. It was born out of a friendship of three dedicated souls who saw the opportunity to join forces and chase their dream of creating wines and a brand that reflected their view of the Barossa. Paul, Tom and Stu had worked together previously in a corporate world but were convinced that their future would one day be an uncomplicated, hand made and lovingly nurtured winemaking enterprise, that revolved around the very core of the Barossa Valley – the growers - who toil each day to produce beautiful fruit, just waiting to be made into wine. We see the grape growers of the Barossa Valley as being the very soul of the region, hence our brand. Our goal is to let the vineyards we work with show through in our wines. Where nature provides, we only guide. With this in mind we strive to make sure Soul Growers wines emphasise the regional and varietal flavours of our beloved Barossa Valley. The essence of what we strive for is to ensure a lifestyle that is good for the Soul: wine, food, family, music, mates and fun.
Our Logo
Soul Growers name comes from the soul of the Barossa Valley – the history of the vineyards, family growers, the handing down of knowledge from the generations and establishing a winemaking style for generations to come.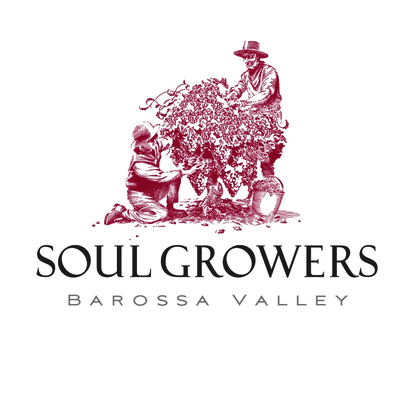 Our logo encapsulates these principles with the older generation working with the younger generation over a historic bush vine.