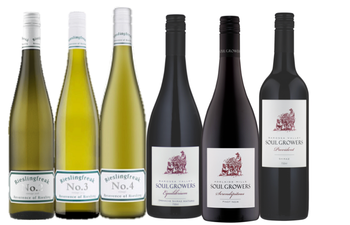 Soul Growers & Rieslingfreak Offer
2018 Equilibrium Barossa Valley Grenache Shiraz Mataro
The Blending of noble varieties to us has always and will continue to offer great potential for complexity and depth of characters. Medium to full bodied with lifted fresh spicy notes and great complexity. Fresh fruit characters of plums, cassis and berries carry onto the palate underpinned by older oak. The finish is soft, fresh and smooth with wonderful, persistent length of fruit and oak flavours…the very art of blending.
2019 Provident Barossa Valley Shiraz
Dark purple, black hues with dark berry fruit carrying onto the nose with subtle spicy oak. The palate has soft up front notes of plums and blackcurrant with integrated oak structure. The finish is soft and long. Quintessential Barossan Shiraz that displays elegance, finesse, firm structure and wonderful depth of flavour
2019 Serendipitous Adelaide Hills Pinot Noir
The very Soul of discovery – we accidently stumbled across this little block of Adelaide Hills Pinot Noir, buried away from the road sidehidden within a gully. A chance meeting with the grower and here we are now – just a handful of barrels were crafted – open fermented, basked pressed and traditionally aged in very old French casks. Designed to be enjoyed now or with a touch more cellaring, this gem with make any game dish sing. Serendipitousis the chance discovery of something lovely, where before there was nothing. Some accidents were just waiting to happen….
2019 Rieslingfreak No.2 Polish Hill River Riesling
Enjoy vibrant citrus on the palate with hints of lemon rind and passionfruit. Good acid on the palate, generosity and length.
2019 Rieslingfreak No.3 Clare Valley Riesling
Generously bright with fresh citrus, perfume and floral notes... even hints of fresh berries that make up a delightful fruit salad.
2019 Rieslingfreak No.4 Eden Valley Riesling
Combining white flowers and gooseberries with talc and slate for a harmonious balance. Great lemon and limes, with a lingering acid back bone. The vibrancy of the palate has you salivating for more.