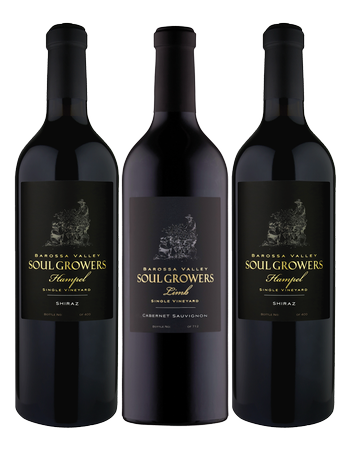 Single Vineyard Christmas Pack
2019 Soul Growers Hampel Shiraz -95 points from Halliday x2
The Hampel family have been farming their land in the northern reaches of the Barossa Valley for 6 generations. Descended from original settlers, this family takes great pride in producing grapes of superb quality that reflect the red soils that abound in the Northern Grounds.
2019 Soul Growers Kleinig Shiraz - 95-year-old vines x 2
This wine is sourced from the Kleinig family's vineyard in Ebenezer, from 95-year-old vines. Rich and full-flavoured, with a long, seductive finish.
2018 Soul Growers Limb Cabernet Sauvignon – 97 points from Halliday x 2
​The Limb family have been a part of the viticultural and winemaking landscape of South Australia since the early 1920s. The vineyard lies along the Western Ridge of the Barossa Valley, near the hamlet of Seppeltsfield. Facing west, it catches the afternoon sun, whilst the shallow and infertile soils only allow the vines to eke out a meagre existence - yielding a very small crop of intensely flavoured fruit. This small section of the Barossa is renowned for wines of great power and elegance, and this release is no exception to that.
All included for $699