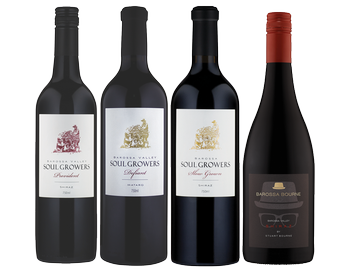 Red Lovers Christmas Pack
Soul Growers Provident Shiraz x 3
The forefathers of the region had either a grand vision or simple luck to plant Shiraz in the Barossa. It's been and continues to be the very essence of our region today and will remain an iconic variety representing some of the oldest vineyards and highest pedigree wines that adorn many of the fine cellars and wine lists of the world. The very Soul of the region.
Barossa Bourne Cabernet Sauvignon x 3
Soak into this vibrant, dark red Cabernet Sauvignon: approachable whilst still offering those varietal characters. This wine is selected from three different vineyards that offer depth, structure with elegance.
Soul Growers Defiant Mataro x 3
Defiant is an understatement with Mataro as it has stood the test of time as one of Barossa's best-kept secrets. Today there has been a resurgence of interest in Mataro (or Mourvedre as it is also known) as a single varietal wine with exceptional results. Spice, structure, and depth of flavour will ensure Mataro will enliven your Soul for many vintages to come!
Soul Growers Slow Grown Shiraz x 3
As generational Barossan's we fully understand that great wine takes time, from understanding our regional soils to the vineyards that have grown in these soils for decades, to finding the barrels that bring out the best of the variety and style. These are the attributes that underpin our Slow Grown Barossa Shiraz – from the Soul.
All included for $400