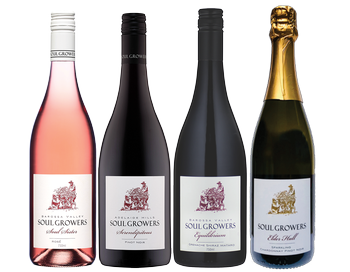 All Rounder Christmas Pack
Soul Growers Elder Hall NV Sparkling x 3
Elder Hall Sparkling Chardonnay Pinot Noir is delicious easy drinking sparkling wine blended from the classic Champagne grape varietals of Chardonnay and Pinot Noir. It is lively and fresh with lifted citrus and stone fruit aromas complemented by a creamy texture and crisp finish.
Soul Growers Soul Sister Rose x 3
Fresh, lively, strawberries, lifted and full of flavour – Rose at its best. Made from both Cinsault and Grenache in the Saignee method of bleeding off the skins and then cool-fermented to dryness.
Soul Growers Serendipitous Pinot Noir x 3
The very Soul of discovery: soft, alluring, aromatic, gentle with a touch of earthiness. We accidentally stumbled across this little block of Adelaide Hills Pinot Noir, secreted away from the roadside and hidden within a gully. A chance meeting with the grower and here we are now.
Soul Growers Equilibrium GSM x 3
The blending of noble varieties to us has always and will continue to offer great potential for complexity and depth of characters. Like blending and matching food the very essence of finding the ideal varietals and blending the right percentage of each variety based on the vintage year brings a style and consistency. Integration of these individual varietal aspects offers flavour profiles not found by the use of a single variety. The Soul of Blending.
All included for $275